Crash Team Racing: Nitro-Fueled is a remake of the title that came out more than 19 years ago for the first PlayStation console. The gameplay is smooth and intuitive, but at the same time challenging due to the boost system through power sliding. Even on medium settings, I would need to retry each race a few times before finally earning first place. The visual changes and dynamic animations have been improved greatly as expected. In addition, the game features the tracks and arenas of both the original game and Crash Nitro Kart.
In adventure mode, we get to choose between Nitro-Fueled or Classic mode. In Nitro-Fueled mode, we can choose difficulty (Easy, Medium and Hard), change car or character at any time. Classic mode does not allow this level of customization. The main aim in adventure mode is progressing by winning races and earning rewards. Each time you win an event, you are awarded with skins, karts, stickers…
In addition to the characters that were playable in the original 1999 title, such as Crash, Coco and Cortex , characters from Crash Nitro Kart are also included. Even Nitrous Oxide is playable. Each character has a different driving style. For example, Crash has balanced stats, while Polar lacks of speed but compensates in agility. In addition, we can also buy karts and skins for our characters and, strangely enough, there are no microtransactions. Limit Battle, Capture the Flag, Crystal Grab, Last Kart Driving and Steal the Bacon are the options in Battle mode that we can play against AI, as well as against our friends locally, or online against other random players.
The online mode is still new and does not offer many new interesting features such as leaderboards. That said, it is worth mentioning the long-term plan of additional free content through the Grand Prix mode, which will see the regular addition of new characters, clues and cosmetic items. Power ups are faithful to the original game, but some of them need fixes. The guided missiles have small bugs but hopefully they are fixed soon. The remixed songs and sound effects of the game are very good. But if the user prefers to reminisce on the original music, you can go to the options to change the songs and sound effects for Legacy Music.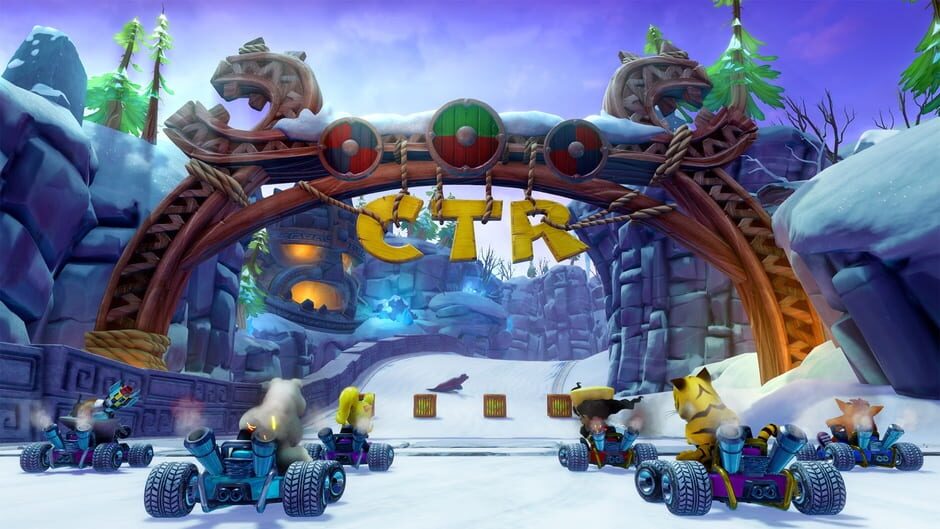 Overall, this is a great remaster of the kart racing game that many regarded to be the best ever made. The customization options for characters and karts are fun and the rebooted graphics are amazing. The game features a few nods to the classic CTR game such as the legacy soundtrack and is a blast to play with some friends. The only issue has to be the slightly long loading times (30 seconds on the console version, 45 seconds on the switch). Crash Team Racing: Nitro-Fueled would be an excellent option for players that loved kart racers and offers much more than its competition in almost every aspect. It is a great carting game with solid gameplay and personality that really stands out from other titles. In conclusion, CTR Nitro-Fueled is a remake that has been handled perfectly and surely will be enjoyed by both new and returning players.
GameRev was provided with a digital download code for the purpose of this review.