Logitech's MX Master series of mice has gained quite a reputation for combining productivity, design and comfort to provide content creators and coders with an experience that is second to none. The MX Master 3 is Logitech's newest iteration of the mouse, aiming to provide users with everything they need to enhance their workflow efficiency and office productivity.
The MX Master 3 boasts a large ergonomic right-handed design with a form that allows for a more supinated grip that helps keep my wrist in a comfortable position even for extend periods of time.
The rubber matte finish accompanied by the curves near the thumb rest give off a sleek and elegant look appropriate for all work environments. On the left-hand side, you will find the horizontal thumb wheel in addition to the thumb and gesture buttons at close proximity. It would have been ideal if there was a slot to store the USB receiver since it is quite small and easy to lose, although this is a minor drawback since I used Bluetooth connection for the most part.
One major talking point has to be the Magspeed scrolling wheel that relies on electromagnets for quick and precise scrolling with negligible noise. The wheel features two modes, ratchet (line-by-line) scrolling for slowly going through text or free scrolling in order to blast through 1000 lines per second. Both modes have their own uses and with SmartShift you automatically change the mode based on what you're trying to accomplish rather than pressing the dedicated button. Another strong point of the MX Master 3 is it's precise tracking on any surface (even on glass) as it benefits from a 4000 DPI sensor.
One major advantage of the MX Master 3 is the USB-C quick charging which provides lightning fast battery charging speeds to ensure the mouse is always powered and ready to go. A full charge will last up to 70 days and even charging for only 1 minute will provide you with 3 hours of battery life thanks to it's quick charge capabilities. As a result, you will almost never be connected to the charger and even when it is plugged in, the charging port is located at the front of the mouse which doesn't obstruct your workflow.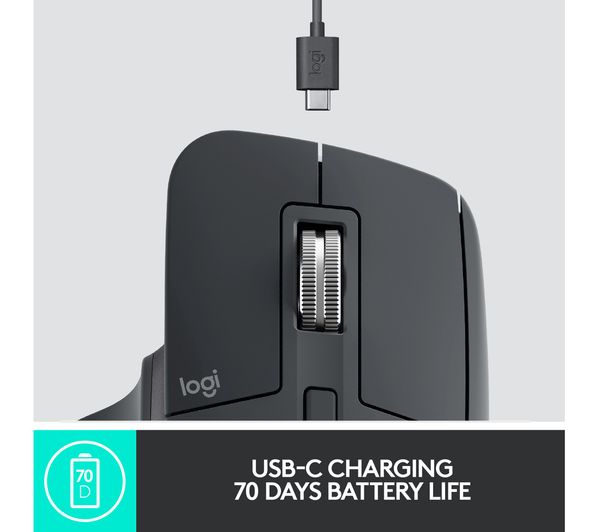 In order to connect the mouse to your device, you are given the choice between a unifying USB receiver and Bluetooth connection which allow you to link up the mouse to up to 3 compatible devices simultaneously. This complements Logitech's Flow technology very well to ensure seamless cross-computer control. Bluetooth took a few minutes to setup for the first time, although it is only a one time thing and will now connect automatically every time it is turned on. By simply moving your cursor to the edge of the screen, Flow will give you control of the second screen automatically. This has proven to be a great way to transfer files, images and text quickly without the need of a USB flash drive or sending them through emails. What's even more impressive is the ability to use Flow with computers running different operating systems such as Windows, macOS and Linux. If all you want to do is switch between devices without the added features of Flow, the Easy-Switch button on the bottom of the mouse provides a fast solution that only takes a push of a button (pun intended).
The MX Master features a wealth of customization settings via the Logitech Options software that allows for configuring what each button does when using certain apps. Pre-installed button profiles are readily available for essential apps such as Microsoft Word, Excel Adobe Photoshop, Google Chrome… However, having the option to fully customize app specific settings and add new applications makes accomplishing tasks faster and smarter.
Overall, the MX Master 3 is a top-of-the-line mouse that performs very well in all categories. From the premium design, to the customization and compatibility, the mouse offers everything a productivity user might want from an office peripheral. While it does come in at a hefty $99.99, those looking to make their workloads as efficient as possible will definitely benefit from the plethora of features available with the MX Master 3.
The Logitech MX Master 3 is available to purchase from Logitech and almost all major retailers at $99.99.
| MX Master 3 Specs | |
| --- | --- |
| Sensor Type | Laser |
| Sensor Model | Darkfield |
| Sensitivity | 4,000 DPI |
| Size (HxWxL) | 2 inches x 3 inches |
| Weight | 4.97 oz (141 g) |
| Battery | Rechargeable Li-Po (500 mAh) battery |
| Colors | Graphite or Mid Grey |
| Price | $99.99 |
GameRev was provided with this product for the purpose of this review.