Monster Energy Supercross 3 is Milestone's latest iteration of motocross racing games which aims to provide the most advanced simulation of the sport yet. The game caters to both Hardcore players who have probably played the previous games and newcomers who still haven't experienced this genre before so that everyone can join in on the fun.
One of Supercross 3's best aspects is it's fast paced gameplay which feels exhilarating especially when you're speeding down the crowded track with multiple riders closing in on you from all directions. Bikes feel grounded in the way they interact with the tracks and the physics feel very natural. The in-air mechanics have also been overhauled to improve rotation and how riders respond to their bike's movement and inertia. New character models and animations have been made which are always nice to have but they still lag behind what we are used to seeing nowadays. The visuals of the bikes and the tracks however are excellent and even the sound of your engine roaring is enough to get you pumped for the race.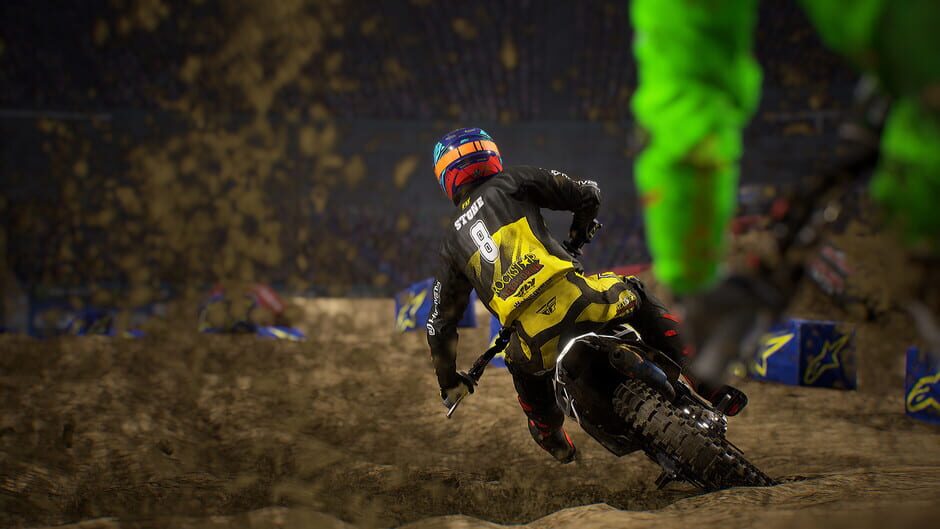 For the first time in the series, you can now join official teams in career mode, which allows you to fully customize your rider and bike according to your choice of sponsor. Another new feature is the addition of female riders which is also a great decision considering the increase in women participating in the sport..
There is quite a variety of game modes to try out such as career mode, single races, multiplayer… The track creation tool also allows you to build and share your own courses online with others. The Compound also returns which provides you with an open playground to practice and improve your skills. This is almost essential since the game's learning curve is quite steep if you don't have experience with the previous games or similar racers. For example, this game really requires you to hit your marks in rhythm sections of tracks and casing a jump will make you lose a ton of momentum.
One important thing to consider is that the game has dedicated servers now which aim to reduce latency and minimize lag in multiplayer modes. This is available on all platforms except for switch which features peer-to-peer multiplayer instead.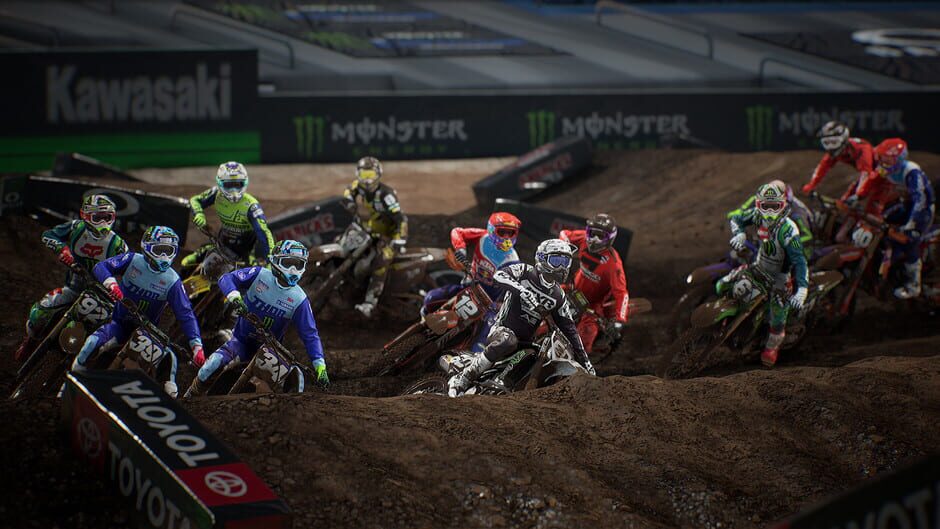 Monster Energy Supercross 3 is a racer which hardcore fans of the series will enjoy the most. The learning curve may be steep for those new to these types of games but The Compound offers a great way to practice and shape you into the great rider you are capable of being. The online experience is smooth thanks to its dedicated servers and the various game modes available help keep the game fun and interesting. The core gameplay seems to be very close to the real thing while still allowing you to pull unreal jumps when you nail the mechanics. Overall, Supercross 3 is quite an interesting game and is worth checking out if you're into fast-paced racing games that take skill and perseverance to master.
GameRev was provided with a digital download code for the purpose of this review.